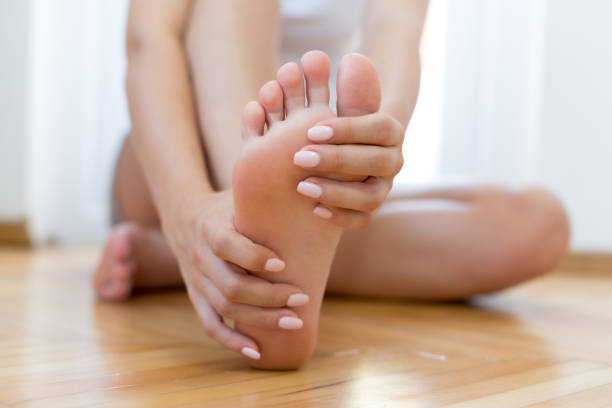 1. Improves Strength and Stability: Strengthens the core muscles, legs and feet, creating a wider range of motion and improved stability and balance.
2. A better night sleep: A walk in nature will help set your circadian rhythm. Experts say that those who suffer from a sleeping disorder can rediscover their sleep if they occasionally walk barefoot on grass.
3. Grounding: You may find that walking barefoot on moist grass or along a sandy path immediately produces a sense of well-being. This contact, known as earthing, can trigger significant health benefits. These benefits include relieving muscle tension, headaches and lowering blood pressure. The challenge for many of us then becomes how to get all the health benefits of walking barefoot in nature in our busy, urban environments. Taking advantage of local green spaces, hiking trails and incorporating nature emulating, therapeutic floor tiles, such as Muffik Puzzle Floors into your home can help you achieve the benefits of grounding with nature.
4. Happiness!: Walking barefoot has been shown to positively impact mental health, lowering depression and decreasing anxiety.
5. Child Development: Studies suggest that when children are barefoot, it allows a development of higher brain centers, which allows for better problem-solving skills, language skills, social skills, regulation of emotions and confidence. As well as ensuring you have time to connect to nature, it's just as important that our children have that opportunity! Spending time in your local green spaces and parks, as well as products such as Muffik Floor mats for kids can help children gain strength, control and confidence (available at cobyandbam.com).
6. Sensory Play: Shown to positively effect the health of all children, but of particular benefit to those with autism, orthopedic and sensory sensitivities. Allowing your child to walk barefoot in a safe environment is one of the best and most cost-effective forms of sensory play!
7. Improved Posture: Shoes, designed to support out feet and arches can allow muscles in our feet to weaken. Walking barefoot strengthens muscles, ligaments and joints that are otherwise underused helping to improve posture and return our natural gait.